A couple weeks a handsome young man asked me if he could talk to me. That was unusual as it is usually women who come to me!
So, the next Sunday we met at our church cafe. He began with, "So, first of all, I really want to thank you for the message you sent me a few months ago." OK, so my face must have really looked blank because he followed with, "You do remember don't you?"
After I embarrassingly admitted that I had no recollection and apologized, using the excuse that I was getting old, he went on to explain, "You sent me a message about how God redeems all our relationships. Well I have kept that message with me and read it all the time... "
This conversation impressed on my mind how important encouragement is. For what took me a couple minutes to write, has been a lifeline to this young man, as he hung onto the message that God works through all our relationships when we hand them over to him.
Today I remind myself to listen to God's prompting to encourage. While we may forget them, the words stick with others and might give them just the strength they need to keep going. I pray that no one is ever left needing what I failed to give. What to say to other's really matters!
And, in recognition to two of my biggest encouragers, I would like to mention Jackie at Adventures in the Ordinary and Nina at He Searches Me. These are two of my friends from before I began blogging and never fail to lift me up. Thank you :)
Anxiety in a man's heart weighs it down, but an encouraging word makes in glad. Proverbs 12:25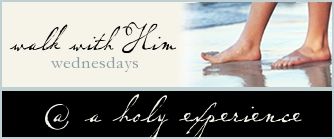 Linked with Spiriutal Sundays